From Tennis To FIFO, And Gardening – How Paige Balanced Her Work & Life
​Who are you?
Name: Paige Newhill

Position: Storeperson

Client: Rio Tinto DSL
​Tell us About Your Journey
I had previously moved to Dunsborough where I set up a successful, but busy, tennis clinic. Now, a decade on and with my children older, I wanted more time with family.
These days I have a bunch of regular, enjoyable tasks in our family garden, but working Monday to Friday at the clinic with only 2 days off was not giving me the time I needed to enjoy the outdoors. I wanted to take the next step towards a better work/life balance.
How did you land your role with WorkPac?
A friend and former colleague, who now worked with Rio Tinto in Tools, asked if I was interested in a FIFO Warehousing role. I thought it would be a great opportunity. The 8:6 FIFO lifestyle is perfect and really enjoyable for me, so I said yes.
I submitted my resume knowing it would be FIFO. Soon after, the Warehouse Supervisor at Rio Tinto called and offered me the role through WorkPac.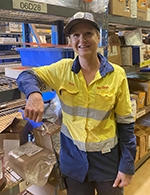 The Supervisor said someone would next contact me about onboarding. Just as he promised, a WorkPac Recruitment Coordinator called soon afterward. She helped me set up a profile on myworkpac.com and ensured my information, like bank details, etc, was correctly submitted. The mobilisation process was completed very easily with inductions, PPE and Travel details sent through quickly after my medical.
I was equally excited and overwhelmed by the role. Once I got to site, the Coordinator checked on me frequently to make sure I was okay. She conducted many care calls. There was a lot of support. I appreciated it all a lot. Onsite, I also met the WorkPac Site Manager. He showed equal support and commitment to myself and other WorkPac employees.
What do you most enjoy about your job?
People's support has been invaluable. They have taught and nurtured me a lot over the years. I am immensely grateful to them. When I started, I was on the 3T forklift. Now, after training, I can operate the 25T forklift. Everyone has boosted my confidence and helped push me to excel.
I really enjoy interactions with the different people who come to the front counter. I like the customer service side of this role. My team is so good! I enjoy working with them because we all support one another. The comradeship is amazing.
On a personal note, onsite, I get to enjoy beautiful sunrises and amazing sunsets each day. The landscape here is full of beauty. I feel really blessed at this job, almost as much as when I'm with family in my own garden which I can now enjoy even more than before.
​